Research Applications
We take pride in developing revolutionary products using our industry-leading silicon nanomembrane technologies for a range of biomedical research and analysis applications.
Life Sciences
Nanofiltration Membranes
SiMPore's silicon nanomembranes are useful for filtering a range of solutes of varying sizes, from nanoparticles to mammalian cells, and come in several convenient formats.
Particle isolation
SepCon® Spin Vials with 50 nm cut-off enable the capture of nanoscale particles, such as nanoparticles labeled with antibodies or other conjugates.
Bacteria, mammalian cells, and similarly sized particles can be captured with our 0.5 µm, 1 µm, and 8 µm cut-off SepCon® Spin Vials.
Build your own microfluidic system
Our nanoporous, microporous, and microslit silicon nanomembranes are available as stand-alone packs for building your own fluidic systems.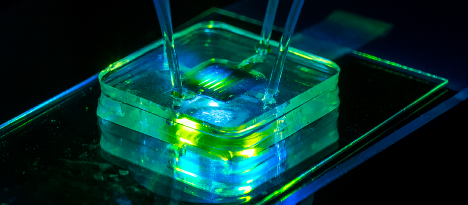 Easily integrate our porous membrane chips into fluidic devices for your specific applications:

Create apical and basal chambers in standard tissue culture plates
Culture single and/or multiple cell types on the highest permeable nanomembranes to image cells with exceptional optical clarity
Create flow cells for separately addressable chambers, culture and introduce cells, and then image with exceptional optical clarity
Nanoporous membranes:

Highest permeability and optical clarity with 50 nm pores
Can also be used for filtration-based capture of nanoparticles or creation of nanoemulsions, or similar applications
Microporous membranes:

Ideally suited for assay applications where micron-level cut-offs are needed, including separation of bacteria, cells, and similarly sized particles
Microslit membranes:

Available in a range of micron-level cut-offs for more demanding Microfluidics separation applications, such as particle isolation, post-conjugation clean up, and analytical interrogations
Browse Top Products for Nanofiltration
Find the precise membrane for your specific needs.